Real Estate in Isla Mujeres
Own a Part of Isla Mujeres
Isla Mujeres is a small island situated just off the north east coast of Mexico and offers an idyllic paradise for anyone looking to buy property. It's renowned for its stunning white sand beaches, crystal clear waters, and extraordinary marine life. From snorkeling dives with sea turtles, whale sharks and dolphins, to relaxing on sun-drenched beaches, Isla Mujeres has something for everyone! Aside from its natural beauty, the island boasts a wide range of attractions – such as ancient Mayan ruins like Ixchel Temple and El Faro Light House. In addition, you'll find plenty of entertainment like international restaurants, salsa bars and dive shops nearby. And with its easy access to Cancun Airport, Isla Mujeres serves as an ideal destination for retirees or vacationers alike. Buy property on Isla Mujeres today and experience the beauty of this remarkable island!
Isla Mujeres offers owners the potential of good rental income or property value appreciation, if they ever decide to sell! Take advantage of these amazing benefits and purchase property in Isla Mujeres today!
Featured Properties
Live the amazing life in sun-drenched Isla Mujeres with Apartamentos...

OWNING PROPERTY IN MEXICO
Buyers Guide
There are two ways for foreigners to purchase property in Mexico. Click on the buttons below for description of the process. This should not be taken as legal advice. It is important to have help making the right buying decision for you.
At Mundaca Real Estate we can assist our buyers with referrals to experienced attorneys and notaries to make your buying experience as simple as possible.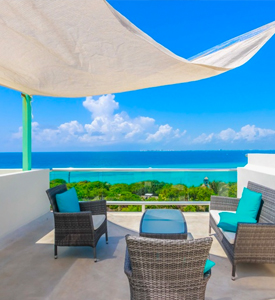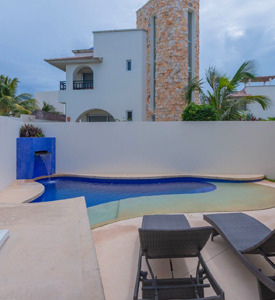 NEW REAL ESTATE DEVELOPMENTS
Sierra Mar Condos
Sierra Mar is the newest condo project happening on Isla Mujeres. Located mid island on the Caribbean Ocean side, this unique project will be an important addition to the island. There will be 10 units each designed with quality and high end finishes as their centerpiece. Highlights include:
Marble floors and Granite counters throughout
Premium Teka kitchen appliances
Drawer Dishwasher
Perota wood "Soft Close" custom cabinets and drawers throughout
Reinforced glass windows
Travertine marble bathrooms wit vessel sinks
Private pool
Elevator
Location is key with views of the ocean from every unit. The large open concept design takes advantage or the views from every area of the condo. These 3 and 4 bedroom units are some of the largest condos available on the island. Sizes range from 1,900 square feet to 3,100 square feet.
Sierra Mar condos have been under construction for several months now and have the foundation complete and have begun working on the ground floor.  Here are some photos to show the progress.